Systems that adapt and react to the influence of external disturbance - iStock
Resilience as a systemic view of reality
An inclusive approach to the design of infrastructure systems
Resilient thinking
The design of flows is naturally oriented towards permanence and the generational heritage. Today, we're outlining the structure of the society to come in 50-100 years. How can we be certain that the infrastructure network we're creating, which will govern such delicate flows for our survival, can withstand the action of unexpected forces (natural, energy, economic, etc. shocks)? Or will it be part of a system able to adapt to the inevitable changes in our communities?
In recent years, the more concrete concept of resilience, meaning the ability our networks and systems must have to withstand the fallout of an unexpected event by adapting without losing their function, has moved forward alongside that of sustainability. A conference organised by IPMA, ANIMP and the Politecnico di Milano was recently held on resilience with the intention of comparing different experiences with special reference to the context of projects and the influence that a resilient approach can have on project management and the teams creating large-scale works or systems. This is a very fertile concept with fascinating origins and has become a methodological approach that can profoundly influence our way of conceiving and structuring infrastructure systems, just like the methods we have to create them.
Resilient thinking is a method of systemic thinking created to give a modern scientific framework to the principles of sustainability and resilience in the fields of research into ecology, eco-systemic services and the sustainable management of natural resources. In a short time, it was realised that its extrapolation to the worlds of projects, companies and economics proved to be surprisingly effective.
Complexity v. Risk
A theoretical excursion into the world of ecosystems is required for full understanding of the concept of resilience and to obtain the guidelines for a resilient thinking method. It is interesting to notice that, since the flow of time is in a single direction and guided by growing entropy, the probability of a past event is 1 and that of a future event always less than 1. This asymmetry implies the impossibility of checking any risk management strategy beforehand.
The concept of risk is introduced to describe our exposure to uncertainty without measuring it. In reality, we should have understood this from Darwin's intuition – the uncertainty of events triggers the creative genius of the ability to adapt (necessary for survival) and so rather than focusing our attention on risk, we should focus on complexity. We should also remember that the more complex a structure, the less precise our knowledge of it. Like uncertainty, risk cannot be measured. The idea of a risk register (the basic tool of risk management) is nothing other than an image constructed by adding facets, but it doesn't measure anything. The scientific and mathematic planning of this method for images doesn't tell us anything measurable about the future – anything can always happen in any case.
In a turbulent context, the measure of success is survival. When faced with a threat, stability, survival and resilience are preferred over profit. People with an ecological background are not surprised by this reasoning. Complexity is inherent in natural systems.
Ecosystems are the reality surrounding us. In the same way, the engineering and infrastructure systems we have created (transport, logistics, communication, health, energy, etc.) are the skeleton of society as we think of it. Compared to natural ecosystems, social ones have three typical features – a technical and organisational complexity, a degree of structuring of human behaviour (unpredictable both individually and collectively), and an uncertainty and non-linearity of their trajectories (unpredictable interdependence). 
Eco-systems or self-regulating ones
There is a very important fixed point regarding this ocean of uncertainty. All adaptive systems have a series of common features or pass through a series of stages with recognisable features. Figure 1 shows a schematic view of the adaptation cycle of a natural system: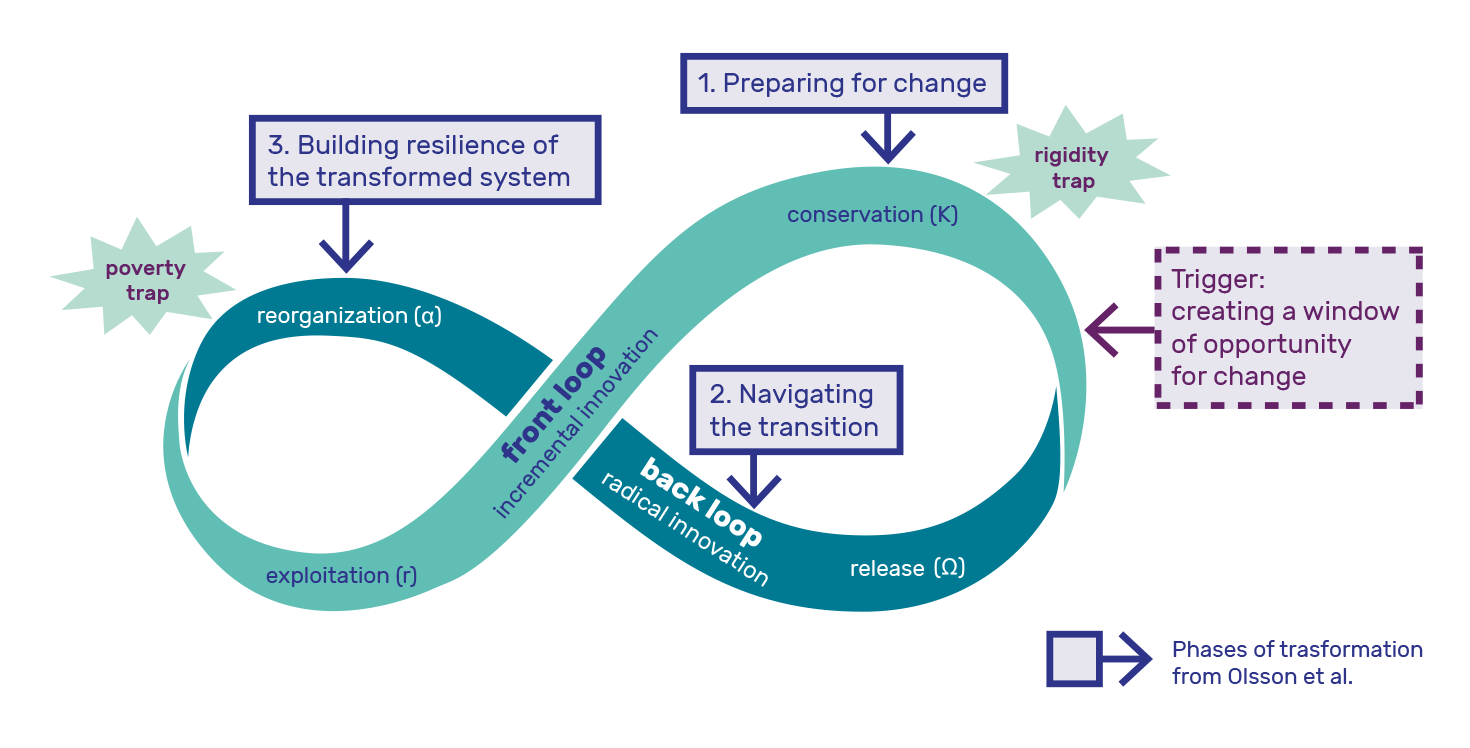 Under the action of external forces, there are four stages, crossing thresholds, undergoing the influx of attractors and different dominions or more or less general reference scales. In relation to its particular resilience resource, the cycle generates an adaptation of the system or its transformation.
Resilience
Sustainability requires persistence, maintenance of the supply of the eco-systemic services by the systems in which we're immersed. The concept of resilience emerged forcefully to give a practical background to the concept of sustainability. Therefore, it depends on:
Persistence: how much 'disturbance' the system can absorb preserving its state;
Adaptability: how much the system is able to regulate itself;
Transformability: how much the system is able to learn and change.
It is not just a question of resisting but recombining evolved and evolving structures and processes, renewing the system and bringing out new trajectories. When dealing with human beings, society and nature (social-ecological systems), it is important to consider the system overall and not focus on a single process as the components are interdependent. In addition, we're talking about adaptive systems able to regulate themselves; as a result, the knowledge of some of their operating mechanisms does not allow, in itself, prediction of behaviour. Lastly, even if there are many variables marking them, there are some main ones that determine the evolution trajectories of the system, and the thresholds are positioned along them. Overcoming these thresholds changes the nature of the system and, for the second principle of thermodynamics, once the threshold has been passed, there is no return. Therefore, resilience is a measure of the distance from these thresholds.
Resilient thinking means indicating the stage your system (project, organisation or team) is in with respect to its dimensional relations of time and space, and being able to grasp the internal and external connections. It means focusing on how the system will change and react to disturbance. If resilience is the ability of the system to absorb disturbance without provoking a change in pace (adaptation without transformation), sustainability is effectively knowledge of the nature and position of the transition thresholds and the ability to manage the system in relation to them. It is a question of learning to channel the flows we're concerned with into the necessary infrastructures.
Resilient thinking is systemic thinking – human and biophysical dominions are interdependent. This is a framework that enables the social-eco-logical system to be seen as a single system operating through interconnected layers. In this context, self-organisation and networks are essential elements because they increase the ability of organisational structures and systems to react independently in the ambit of a shock. The alignment of these concepts with that of Bauman's liquid modernity, the passage from the solid/stable state to the liquid/unforeseeable one where the uncertain duration and consistency permeates all social living, is formidable. There isn't an optimal state of the system because it is never still, its permanence in time is simply an illusion. It is a question of having the sensitivity to recognise which stage of your cycle you are in and acting accordingly.